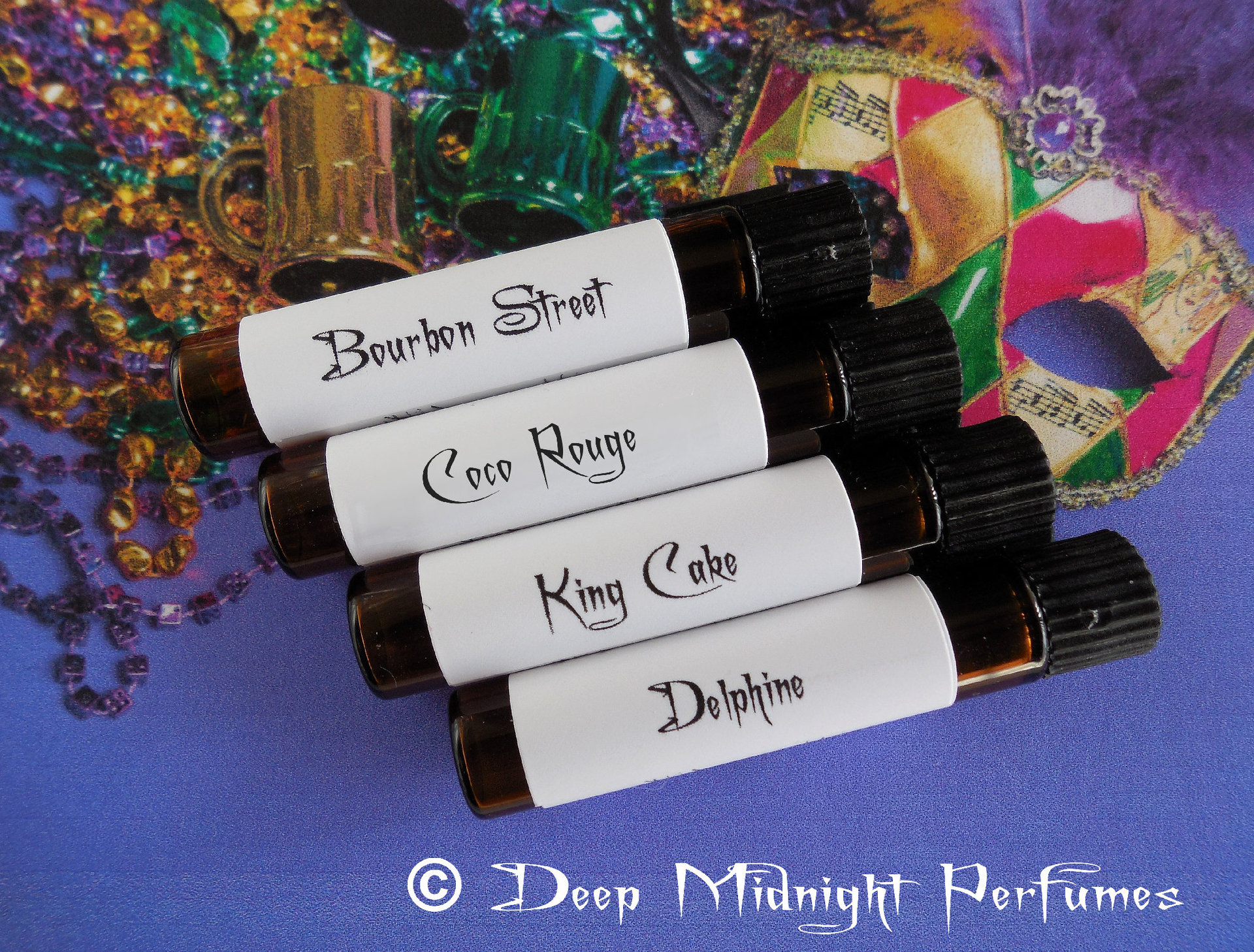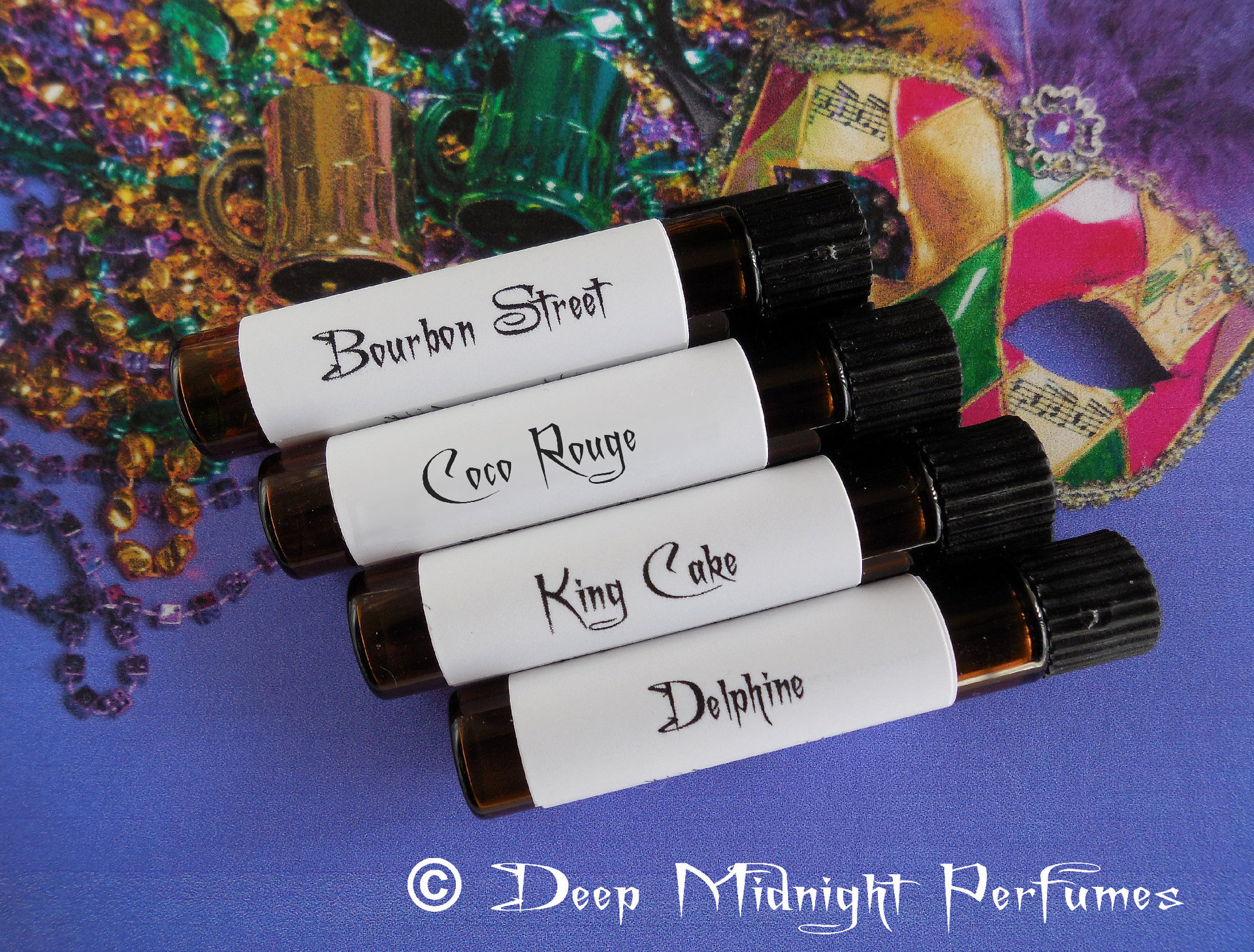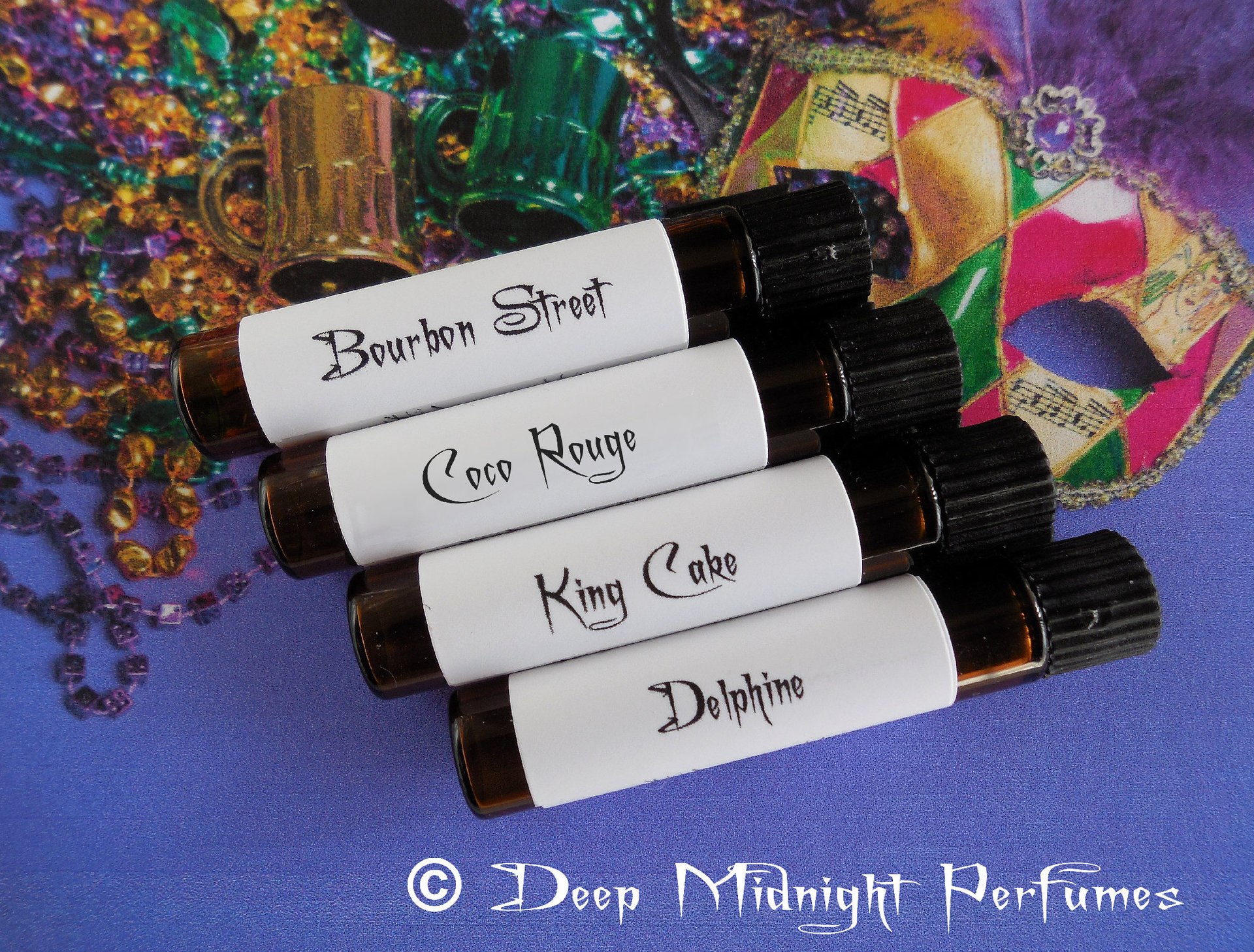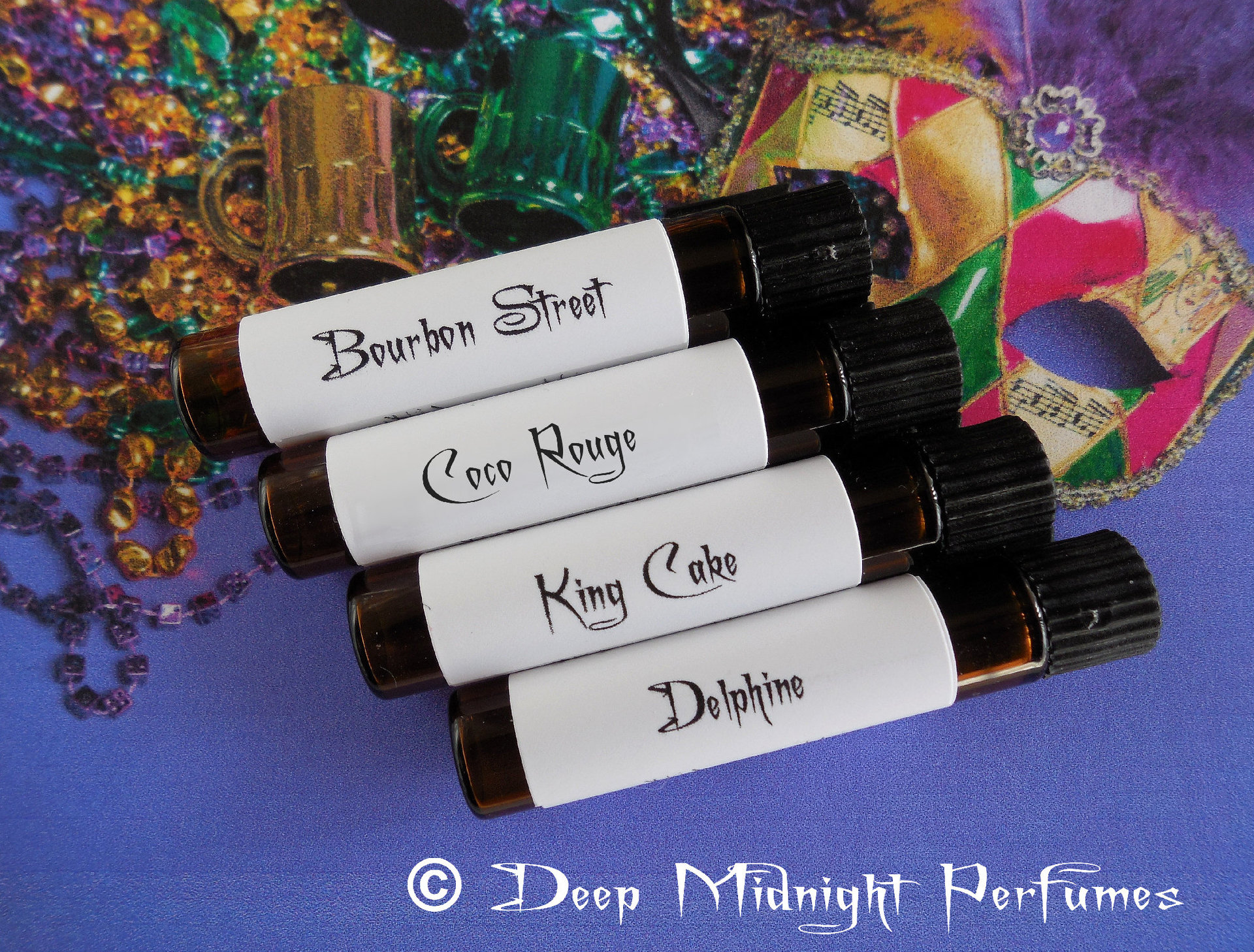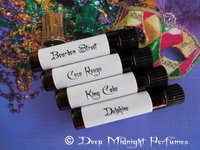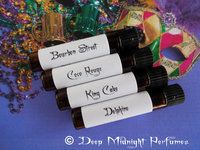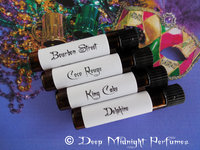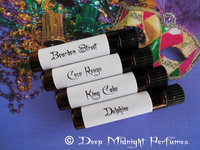 MARDI GRAS Perfume Sampler Set - Set of FOUR 1 ml vials - Artisan Perfume - Mardi Gras Perfume
Mardi Gras Perfume Sampler Set - Set of four 1 ml sample vials
This set contains a 1 ml sample vial of each of these four scents:
KING CAKE Perfume Oil
DELPHINE Perfume Oil
COCO ROUGE™ Perfume Oil
BOURBON STREET Perfume Oil
Please see descriptions below. Each vial is a 1 ml amber glass vial with plastic stopper and label.
Each perfume is also available in my shop in full size 9 ml roll-on bottles.
**************************************************************
KING CAKE Perfume Oil:
Based on the traditional and scrumptious Mardi Gras King Cake, which is made with a yeasty bread and Danish type dough, braided and filled with cinnamon and sometimes various fruits jams or nuts and then topped with sugary or cream cheese frostings. King Cake is made around the world and is traditionally served around Epiphany and the pre-Lenten festival of Mardi Gras. The one who finds the baby charm inside the cake will have good luck year round.
This perfume oil is a semi-sweet gourmand comprised of: Yeasty bread dough, cinnamon sugar, vanilla, a touch of cream cheese frosting and a dab of strawberry filling.
It's has that good yeasty bread/ Danish smell with the cinnamon (skin safe) lingering a long time.
**************************************************************
DELPHINE Perfume Oil:
She walks the balmy streets of New Orleans in the disappearing light of day. Slowly, she glides among the passersby and knows each face, each sigh is hers. Nights of long ago and the here and now meld into one as she savors each moment; each breath of magnolia and gardenia... a moonlit kiss to her face. Come join her as queen for a night and let your senses be taken.
From the short story, DELPHINE, By Cat Marx © 2014
Classic with a little twist, haunting and heady, this feminine scent is comprised of main notes of: Magnolia blossoms, gardenia, vetiver, night blooming jasmine, olive leaves, and bayrum.
**************************************************************
COCO ROUGE™ Perfume Oil:
Let the red festival sweep you away into decadence and mystery. Who is that delicious stranger behind the mask? What are you willing to give in return for brush of his lips? Will you remove your mask and bare your desires? Remember.... nothing is ever as it seems when the masquerade begins!
Notes of amaretto liqueur are deepened with balanced tones of the darkest cocoa, cappuccino, rich cream, and buttery amber, while background notes of oakwood fire, and citrus deepen the intrigue. Come and play if you will!
**************************************************************
BOURBON STREET Perfume Oil
The Lamplighter turns down his last alleyway, and you long to follow the scent of sexy bay rum touched with vanilla and musk. A popular unisex scent tipping slightly towards the masculine side of the scale.
**************************************************************
Deep Midnight Perfumes Donates to Animal Charities: I donate a portion of my monthly sales to local MN animal rescue organizations. Please see my profile page to see the charity/charities I currently sponsor. Giving back is part of being a responsible person in this world we live in.
Deep Midnight Perfumes are:
Hand Blended: I create all of my perfumes myself with love and care, using my own original formulas. I use the finest essential and/or fragrance oils and organic jojoba oil (the gold standard of carrier oils) for superior skin absorption and longevity of the shelf life of the scent.
Vegan: Honey, leather, and musk notes are always a high quality synthetic or plant based substitutes. All perfumes are also free of carmine.
Cruelty-Free: I never test my products on animals and never will. All of my sources for scent notes and carrier oils have pledged to be non-animal testing companies forever.
Preservative Free: There are no harmful parabens, phthalates, or alcohol in my perfume oils.
Thank you for your patronage and I hope you enjoy the perfumes I love to create for you!
PLEASE read my shop policies before purchasing.
**Copyright 2010-present: Deep Midnight Perfumes All Rights Reserved. The product listing descriptions, product names, notated photographic images, all logos, all banners, all icons, all product/label designs, and marketing materials are the intellectual property of "Deep Midnight Perfumes" and MAY NOT be reproduced in any way without the express written consent of Deep Midnight Perfumes.